If you're looking for something edifying, educational and interesting, look no further: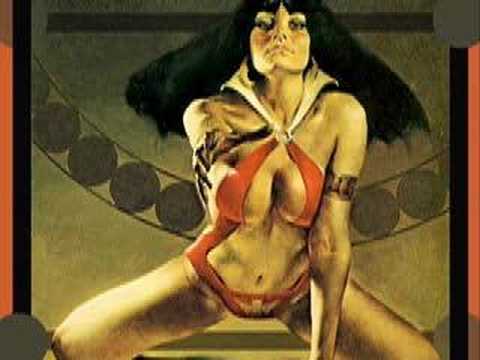 "1970's Supergirls Kick Your Butt!"
The American civil rights movement opened possibilities of empowerment to a new generation. Feminism simply extended that to include equity for the 51% majority of the human race, namely women. 1970's pop culture reflected society's struggle to grasp a new, modern, full-range woman. Comic books were in a renaissance through young counterculture creators with more sophisticated stories, art, and outlooks. What better place for higher concepts of new female power than the turbo-amped fantasyscape of superheroes?
"Here be… the victors!": BIG BARDA of the New Gods, by the Picasso of comics, Jack Kirby (1970); the 'new' LOIS LANE, exploring unexpected sides of herself; SHANNA The She-Devil, an heir to Tarzan and Sheena; the split-persona ROSE AND THORN, a mild woman by day, a 'vixen of vengeance' at night kicking biker ass in green leather (1972); THE CAT, a Marvel update on Catwoman, who morphed into TIGRA The Were-Woman (1972); the BLACK CANARY, a stalwart heroine from the 1940's who got new kick as a member of the Justice League of America; DEADLY NIGHTSHADE, 'the queen of the werewolves', a villain who fought Captain America and the Falcon (1973); MARY MARVEL, the sister of Captain Marvel, and essentially the original Supergirl since the early 40's (1973); DARNA, the Phillipines' pinay-power answer to Wonder Woman and Mary Marvel, who spawned many movies like 'Fly Darna Fly' (1973); THUNDRA who fought the Fantastic Four and later replaced the Thing as a member (1972); the really wrong-headed attempt at a WONDER WOMAN movie, starring Cathy Lee Crosby (1974); SUPERGIRL, with fellow slamazons in the DC Comics universe (1974); FRIDAY FOSTER, a syndicated comic strip which was made into a movie starring hellion-on-heels Pam Grier (1975); the true WONDER WOMAN, restored to her full glory after a bad detour into 'no powers', the success of which spurred the perfectly-realized TV show starring the more perfect Lynda Carter (1975-78); which also included WONDER GIRL, given full bredth by Debra Winger; THE BIONIC WOMAN, the love of the 'Six Million Dollar Man' and bane to Fembots, played with serene class by Lyndsay Wagner (1976-1978); VAMPIRELLA, the gothic love-child of Bettie Page and Barbarella, from the decidedly more adult horror stories of Warren Magazines (1969-1983); STORM, one of the first African/American superheroines, whose regal power elevated the X-Men (1975); POWER GIRL, an alternate universe version of Supergirl, who won't take @#$& from anybody! (1976); ELECTRAWOMAN & DYNAGIRL, a Saturday morning kids show very similar to the campy 60's 'Batman' series (1976); LEIKO WU, the balance to 'Shang Chi, Master Of Kung Fu', who really will kick you upside your head wearing boots like it's no thing (1975- 1981); ISIS, starring Joanna Cameron, created for TV as a companion to Captain Marvel's 'Shazam' show, who got her own comic in the deal (1976); RED SONJA, The She-Devil With a Sword, and the distaff rebuke to her rival 'Conan the Barbarian' (1973); PRINCESS LEIA ORGANA SKYWALKER, as fast with a sharp tongue as a blaster or a chain, from 'Star Wars' (1977); MS. MARVEL, a Stan Lee rethink/ response to DC's Mary Marvel to complement their own, separate Captain Mar-Vell (1978); The HUNTRESS, an alternate universe daughter of the Batman and Catwoman, meaning you shouldn't mess with her (1977); SPIDER-WOMAN, spinning her own web of intrigue (1977); PHOENIX, of the X-Men, whose descent into the Dark Phoenix was one of comics' most seismic tragedies (1976-1980); MISTY KNIGHT, bionic heroine-for-hire, from the pulse-pounding pages of 'Power Man/ Iron Fist' (1975); SHE-HULK, the refined and wry cousin of the Hulk (1980); DAZZLER, an unfortunate marketing deal between a disco label and Marvel Comics (1980); and finally, from the shadows, comes ELEKTRA, an ambivilent anti-heroine signalling the post-punk comics renaissance of the Eighties (1981).
About ISIS: The first all-female band signed to a record deal was Goldie & the Gingerbreads in 1964. They tore up New York, toured with the Stones, and won world acclaim. But they were only able to record a few singles, which faded under record label incompetance. (Fanny would later be the first all-female band to make full albums, in 1970.) They split, only to go in parallel paths. Goldie became Genya Ravan, leading the eclectic and funky rock band, Ten Wheel Drive. Guitarist Carol MacDonald and drummer Ginger Bianco forged ISIS, an all-female octet of progressive funk-rock. They made three albums between 1974 and 1977. Musically they were the equal of anyone, from Blood Sweat & Tears and Chicago, to Earth Wind & Fire and Parliament. But they were too ahead for the times to handle: an all-female group of varied ethnicities and orientations, likewise bending every music style like taffy. They were the future, right now, as it should be.
Sadly, their leader Carol MacDonald recently passed away in March, 2007. Find out more about her underappreciated legacy here:
http://www.itsaboutmusic.com/isis.html
http://www.itsaboutmusic.com/genyaravan.html
Nuff said, effendi!
-EXCELSIOR!
http://www.youtube.com/funknroll
(All rights reserved by the respective copyright owners. Fan-made video to promote awareness of all the works.)
Thats great information, there's more coming tomorrow
Don't forget to subscribe to our weekly drawings and music events – click here to lock in your chance for our weekly giveaways of music, t-shirts and other merch!