Definitely check this out as well: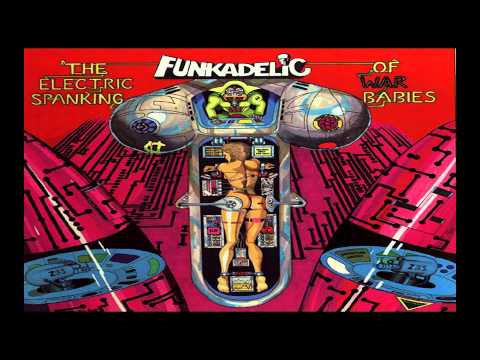 The Electric Spanking of War Babies is the twelfth studio album by the American funk band Funkadelic, released in 1981 on Warner Bros. Records. The title is an allusion to the Vietnam War and baby boomers. It includes many relative newcomers to P-Funk, many of whom remained employed by George Clinton on future releases under his own name or under the name George Clinton & the P-Funk All-Stars. Sly Stone is a collaborator on this album. Clinton originally planned on this being a double album, but the idea was quashed by Warner Brothers. Some of the deleted tracks appeared on later P-Funk releases, most notably the 1983 hit single "Atomic Dog" which appeared on the first George Clinton solo album, Computer Games.
"Copyright Disclaimer Under Section 107 of the Copyright Act 1976, allowance is made for "fair use" for purposes such as criticism, comment, news reporting, teaching, scholarship, and research. Fair use is a use permitted by copyright statute that might otherwise be infringing. Non-profit, educational or personal use tips the balance in favor of fair use."
Stay tuned
Don't forget to subscribe to our weekly drawings and music events – click here to lock in your chance for our weekly giveaways of music, t-shirts and other merch!