Improvisational Jazz Funk Fusion has always been one of my favorite genres. We've got a new progressive improvisational jazz funk band in the works and I thought you'd like it if I shared a little bit of the new direction that's taking shape with Funkatology.
Improvisational Jazz Funk Recorded Live
The recording (tap the video to listen) is a realtime drum & bass recording of myself and an amazing new artist named Jermaine Green who is a phenomenal drummer as well as being a producer with his own recording studio in North Miami.
Jermaine has an insane talent for blending jazz and funk for a veritable river of rhythm that never stops! And it gives me a great opportunity to really stretch out on my fretless.
Sorry I didn't actually take a video of the session – but what you're hearing is the realtime audio recording of the drum & bass session. What you're seeing is some visuals I threw together in about a half hour with Camtasia. Next time we'll try to get live video footage.
A Tradition of Improvisational Jazz Funk Fusion
Back in the day when I was growing up in Ann Arbor Michigan just outside of Detroit, my friends and I used to listen to all the new Miles Davis music that came out, of course Weather Report and we absolutely went nuts over Tony Williams Lifetime.
So we spent a lot of time jamming and recording ourselves, 'pushing the envelope', asitwere. Then later, we'd sit around listening to the tapes and picking out the good parts that just sort of "happened" when you get enough good people playing together and feeling a vibe.
As we came to understand the music we realised that much of what Miles and Weather Report recorded — and I mean really amazing stuff — a lot of the cuts that ended up being released, were totally off the cuff, improvised sessions.
So we used to spend a lot of time jamming in basements, improvising our own blend of free jazz and getting as much of it as possible on cassette. With this kind of recording, you always had to turn the cassette over to record on side two at the end of side one, usually right at a crucial part of the music. Not so anymore with digital recording!
So we'd do the jamming and recording most nights and weekends, and spend the rest of the time doing whatever we had to do to pay the bills doing dance gigs, day jobs, or whatever.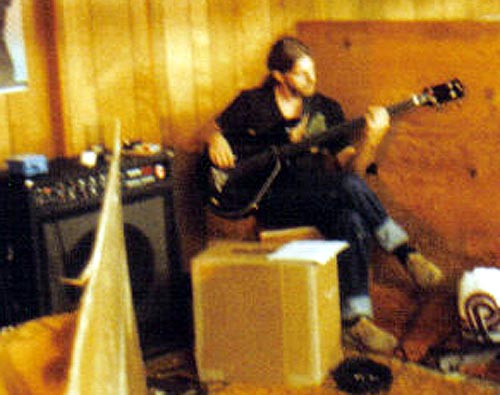 Honestly, not too much has changed since then — I still dig the heck out of hot improvisational jazz funk music and I'm still doing these live improvised sessions whenever I can… check the video above for a track we recorded this month (summer 2018 at this writing) that really took off from the launch pad with Jermaine Green driving that beat and Funkmeister H. letting loose on the fretless funk bass!
You'll hear some Fender Rhodes and synth on top. Those were added quite improvisationally – after the fact. In my opinion they complete the track. The only issue I have is that the microphone was a little too close to the bass and not closer to the drums. We'll get everything miked properly in sessions to come!
Don't forget you can register for free music download from me & Funkatology here.