Here's an interesting find that I'm sure you're going to appreciate: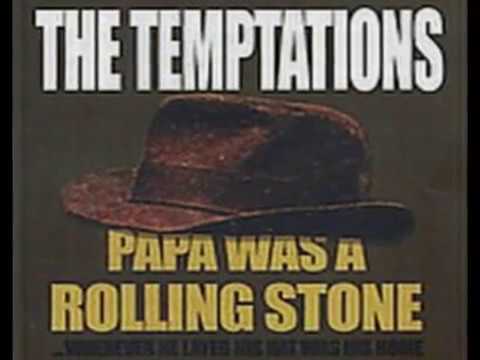 "Papa Was a Rollin' Stone" is a soul song, (Length 6:54 (single edit)11:47 (album mix)) written by Motown songwriters Norman Whitfield and Barrett Strong as a single for Motown act The Undisputed Truth in 1971. This version of "Papa" was released as a single in early 1972, and peaked at number 63 on the pop charts and number 24 on the R&B charts.
Later in 1972, Whitfield, who also produced the song, took "Papa Was a Rollin' Stone" and remade it as a 12-minute record for The Temptations, which was a number-one hit on the Billboard Hot 100 and won three Grammy Awards in 1973. While the original Undisputed Truth version of the song has been largely forgotten, The Temptations' version of the song has been an enduring and influential soul classic. It was ranked #168 on Rolling Stone's list of the 500 Greatest Songs of All Time, one of the group's three songs on the list. In retrospect, The Temptations' Otis Williams considers "Papa" to be the last real classic the group recorded.
Beginning with an extended instrumental introduction (4:39 in length), each of the song's three verses is separated by extended musical passages, in which Whitfield brings various instrumental textures in and out of the mix. A solo plucked bass guitar part, backed by hi-hat cymbals drumming, establishes the musical theme, a simple three-note figure; the bass is gradually joined by other instruments, including a blues guitar, wah-wah guitar, Wurlitzer Electric Piano notes, handclaps, horns, and strings; all are tied together by the ever-present bass guitar line and repeating hi-hat rhythm. A very unusual thing about this song is that it uses only one chord throughout the entire song — B-flat minor.
Vocal jobs are performed in a true ensemble style: Temptations singers Dennis Edwards, Melvin Franklin, Richard Street (who was a frequent fill-in for Paul Williams and his eventual replacement) and Damon Harris (who had replaced Eddie Kendricks as the group's falsetto singer the previous year) alternate vocal lines, taking the role of siblings questioning their mother about their now-deceased father; their increasingly pointed questions, and the mother's repeated response ("Papa was a rollin' stone/wherever he laid his hat was his home/and when he died, all he left us was alone") paint a somber picture for the children who have never seen their father and have "never heard nothing but bad things about him."
The Temptations is an American vocal group having achieved fame as one of the most successful acts to record for Motown Records. The group's repertoire has included, at various times during its five-decade career, R&B, doo-wop, funk, disco, soul, and adult contemporary music.
Formed in Detroit, Michigan, in 1960 as The Elgins (not to be confused with another Motown group with the same name), the Temptations have always featured at least five male vocalists/dancers. Known for its recognizable choreography, distinct harmonies, and flashy onstage suits, the Temptations have been said to be as influential to soul as The Beatles are to pop and rock.Having sold tens of millions of albums, the Temptations are one of the most successful groups in music history.As of 2010, the Temptations continue to perform and record for Universal Records with its one living original member, Otis Williams, still in its lineup.
The original lineup included members of two local Detroit vocal groups: from The Distants, second tenor Otis Williams, first tenor Elbridge "Al" Bryant, and bass Melvin Franklin; and from The Primes, first tenor/falsetto Eddie Kendricks and second tenor/baritone Paul Williams (no relation to Otis). Among the most notable future Temptations were lead singers David Ruffin and Dennis Edwards (both later solo artists), Richard Street, Damon Harris, Glenn Leonard, Ron Tyson, Ali-Ollie Woodson, Theo Peoples, and G. C. Cameron. Like its "sister" female group, the Supremes, the Temptations' lineup has changed frequently over the years.
Over the course of their career, the Temptations have released four Billboard Hot 100 number-one singles and 14 Billboard R&B number-one singles. Their material has earned them three Grammy Awards, while two more awards were conferred upon the songwriters and producers who crafted their 1972 hit "Papa Was a Rollin' Stone". The Temptations were the first Motown act to earn a Grammy Award. Six Temptations (Dennis Edwards, Melvin Franklin, Eddie Kendricks, David Ruffin, Otis Williams, and Paul Williams) were inducted into the Rock and Roll Hall of Fame in 1989. Three classic Temptations songs, "My Girl", "Ain't Too Proud to Beg", and "Papa Was a Rollin' Stone", are among The Rock and Roll Hall of Fame's 500 Songs that Shaped Rock and Roll.
The "Classic 5" lineup of The Temptations:
David Ruffin , Melvin Franklin , Paul Williams, Otis Williams, and Eddie Kendricks (center) circa 1965
Thats great information, there's more coming tomorrow
Don't forget to subscribe to our weekly drawings and music events – click here to lock in your chance for our weekly giveaways of music, t-shirts and other merch!